lust •
I sent my Tinder and Bumble matches Donald Trump quotes as chat up lines
Make dating great again
Nobody can deny that Donald Trump comes out with some pretty incredible one-liners. Whether it's through his excessive use of capital letters and exclamation marks, every time he pens another insightful tweet or says something at a rally that definitely wasn't on the cue card, he says some pretty weird things. Despite his profound comments, he somehow managed to win over not only his wife Melania but also the likes of millions of American voters and gain himself a huge fanbase, the Trumpsters.
So, he must be doing something right? As he is so popular amongst the masses and clearly a wordsmith, I figured I would test out what makes Trumpsters tick, using some of his best quotes on another lost demographic – the singles looking for love in the depths of Tinder and Bumble. Way to stand out.
I mean, if Donald convinced America to vote for him, surely I could grab attention like he grabs…you know.
'I have never seen a thin person drinking Diet Coke'
Oh Donald, eloquent as always. Clearly, this guy was confused and had no idea what I was on about. Points to him for trying to go with it.
'Show me someone without an ego and I'll show you a loser'
Maybe I just have great lines? The fact he caught me out in one almost makes me feel embarrassed. This one-liner featured in a tweet in 2012, quoting an extract from his book "How To Get Rich."
'If Obama resigns from office NOW, thereby doing a great service to the country—I will give him free lifetime golf at any one of my courses!'
Excuse my typo but how did he not even comment on the free lifetime gold?! Can you tell that Trump has always loved Obama? Throwing it back to 2014 here…
'You know, it really doesn't matter what the media write as long as you've got a young, and beautiful, piece of ass'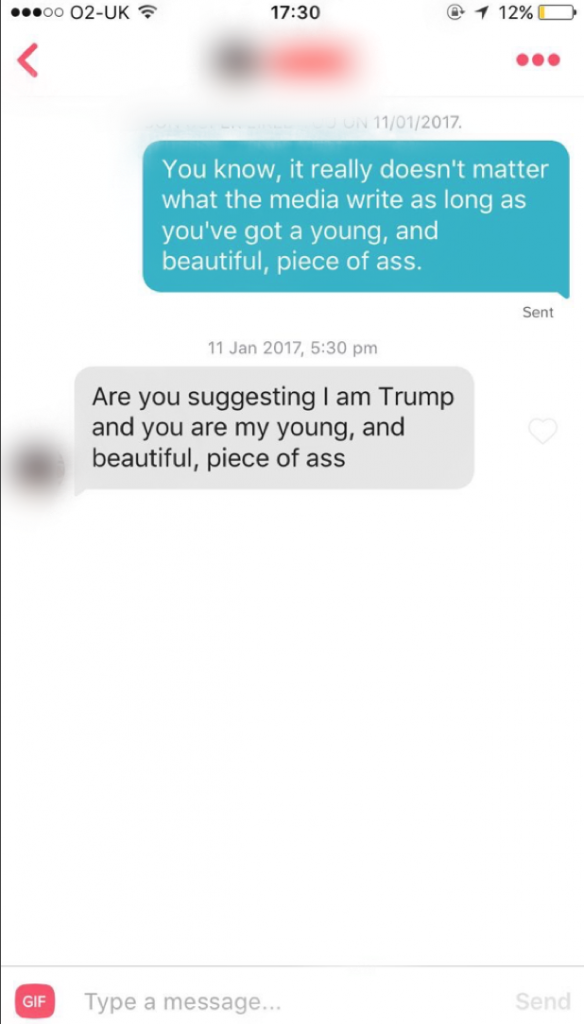 Without a doubt the best response I got all evening. No words other than, nicely done. On the other hand, not so nicely said Donald in your interview with Esquire. I don't care if it was in 1991.
'You know I'm automatically attracted to beautiful — I just start kissing them. It's like a magnet. Just kiss. I don't even wait. And when you're a star, they let you do it'
Not very amazing when you're bragging about sexually assaulting women.
'A person who is very flat chested is very hard to be a 10'
Objectifying women as usual there Trump. I know lots of women that are proud to be part of the itty bitty titty committee. I do love how this guy went along with this though, 10 points for him.
'Must be a pretty picture, you dropping to your knees'
How could we forget this famous quote from the Apprentice to candidate Brande Roderick in 2013. It's on video Donald, you can't deny it happened. No wonder he caught me out straight away.
'The beauty of me is that I'm very rich'
There's always one isn't there.
'Everyone knows I am right that Robert Pattinson should dump Kristen Stewart. In a couple of years, he will thank me. Be smart, Robert'
To be fair, I fancy Robert too. Trump also had an unforgettable freakish obsession with the actor and his twilight born romance. There is genuinely a collection of 11 tweets about Pattinson, even openly inviting him to the 2012 Miss Universe Pageant to help him find a replacement girlfriend.
'I HAVE NOTHING TO DO WITH RUSSIA – NO DEALS, NO LOANS, NO NOTHING!'
I think I scared him with my excessive use of capital letters. Donald was obviously feeling a bit defensive in this tweet. It's not nice when people say nasty things about you, is it?
'What do you have to lose by trying something new like Trump? What do you have to lose?'
Oh, only integrity, respect from the world and general grace and decorum. Nothing major.
'My Twitter has become so powerful that I can actually make my enemies tell the truth'
His disappointment when he realises it's a Trump quote makes me both happy and sad at the same time. Donald, all your twitter does is show how clueless you are. Someone really ought to take his phone off him.
'It is better to live one day as a lion than 100 years as a sheep'
I don't think he would consider these wise words if he knew not only do they come from a Trump tweet, but the quote is actually taken from the Italian Fascist leader Mussolini. Nice.
'As everybody knows, but the haters & losers refuse to acknowledge, I do not wear a "wig." My hair may not be perfect but it's mine'
Starts with the compliments, ends with the realisation of a Donald quote. Trump definitely is far from wonderful but also insecure. Sorry that your hair looks a troll doll.
'I would build a great wall, and nobody builds walls better than me. Believe me'
Do you want to scare people off on Bumble? Just use this one liner and people will think you're a complete weirdo.
Copying Trump's quotes went down as well as Melania's plagiarised speech. Either I was caught out straight away with my non-original work or I left some (the majority) feeling pretty confused.
I honestly don't know how he does it. I may have succeeded at standing out from the crowd, something that Trump does very well mostly for all of the wrong reasons. Yet nine times out of 10 I had to explain my weird outbursts, which apart from a few with a light sense of humour, often lead to some very awkward conversations.
Unless you want people to think you're a deplorable or a Trumpster, arguably the same thing, I would leave the outrageous comments to Donald.