babe •
You have to look at these photos of Paris Hilton as Kim Kardashian
I'm GAGGING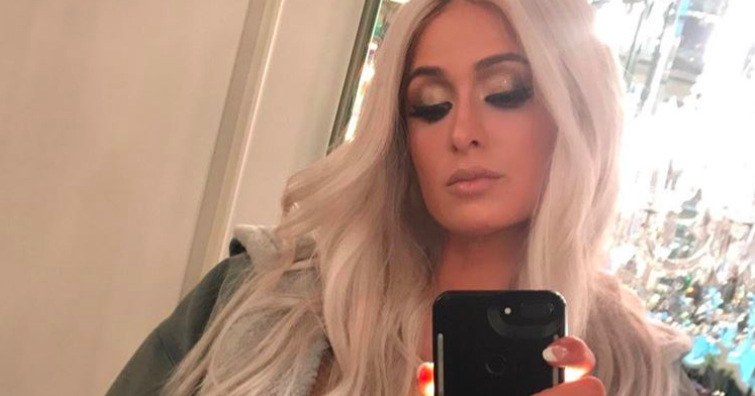 So I was talking about this with a friend the other day, but I really feel like Paris Hilton has entered a specific realm of celebrity-dom where you can basically do anything and say anything you want, and people kind of just blindly go along with it. Like Britney Spears or Lindsay Lohan — I have no idea why, but I really feel like I want to protect them at all costs. Remember the time Paris told us she voted for Trump but we all kept retweeting her anyway?
But this time, she did something great. Not redeemable, per se, but definitely great. Incase you're embarrassingly far behind on your Kimlore, Kim K was actually once Paris Hilton's assistant. I know, what a power couple. Anyway, Kim ended up enlisting her to star in Kanye's West's Yeezy Season Six campaign and now here we are, full circle, with Paris Hilton recreating some of Kim's wildest Instagram posts and I still haven't found the time to pick my jaw up off the floor.
So basically, Kim used to organize Paris Hilton's closet, and now Paris is modeling her husband's shorts.
Naturally, Twitter is having a field day
This is basically the best day of an internet kid's life.
Look, clearly there's no bad blood between Kim and Paris, great. BUT I CANNAH talk myself out of seeing the irony in Paris being one of the Kim clones. My funeral will be held tomorrow at 1pm. Dress code: #YEEZYSEASON6

— FELIPE (@MolestMeKardash) January 31, 2018
— Sam✨ (@samrebrovich) January 31, 2018
Kanye and Kris Jenner got every social media influencer, honey, model, and Paris Hilton to dress as Kim Kardashian debuting #YeezySeason6.

The TL is the runway. pic.twitter.com/iI2KN7rHWW

— gillian from marketing (@MorgBGreat) January 31, 2018
The fact that Kim Kardashian has her former boss who she used to organize closets for (Paris Hilton) all dolled up looking like Kim modeling her husband's fashion line…. gag of the century pic.twitter.com/9vjyT4JIEa

— James Harness (@JamesHarness) January 31, 2018
Boy Kim changes so much I zoomed in and everything and was like dang she looks just like Paris Hilton now 😂 https://t.co/9Gh9NXltyZ

— Trevor Norris (@trevor_norris0) January 31, 2018
Do y'all know how fucking insane it is to have Paris Hilton dressed as Kim Kardashian? This is crazy as hell https://t.co/3bTY5NPmUr

— Frnk Hnrqz (@frnkhnrqz) January 31, 2018
Kim Kardashian,Casspernyovest and Paris Hilton are good examples that you dont need talent to be succesfull you just need delusional fans pic.twitter.com/7r1KgZNJ31

— Thabang (@Thabang015_) January 31, 2018
First time I've ever looked at the difference in number of followers between Kim and Paris and woah it truly isn't 2006 anymore pic.twitter.com/f1Y3hQsDqW

— Jaye (@Jayesophine) January 31, 2018
Kim calling Paris the OG makes me really happy. A real woman will always recognize the people that paved the way for her

— Myleeza (@MyleezaKardash) January 31, 2018
Paris hired Kim, now Kim is hiring Paris. I love plot twists.

— Myleeza (@MyleezaKardash) January 31, 2018
And if Kim K turning the tables isn't #CareerGoals, then I don't want a career anymore.